Welcome To Hawaii Prince Golf Club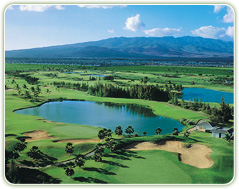 Hawaii Prince Golf Club designed by Arnold Palmer and Ed Seay offers 27 dramatic holes, the only golf course of its kind in Hawaii. Three interchangeable nines create a variety of playing conditions for all skill levels. Situated on Oahu's sunny Ewa Plain, the course boasts 270 acres of sheer beauty and offers stunning views of the rain-carved Waianae Mountains. Long verdant fairways are lined with numerous white sand bunkers and 10 strategically placed lakes. Join us for challenging play on this unique course and experience unparalleled golf at its finest or invest in your game with lessons from our friendly and experienced golf professionals.
Hawaii Prince Golf Club
Guidelines to CDC Approved Back2Golf Protocol
Effective: 5/10/21
Pro Shop is open every day from 6:15am- 6:00pm including holidays.
Facemasks are required around the pro-shop, clubhouse and while sharing a golf cart.
Accepting credit card and cash payments. 
Tee times are limited to 8-minute intervals, last 18 holes tee time will be at 1:32pm.
Groups of four or less will be allowed and golfers must adhere to social distancing of 6 feet apart at all times, including the check-in and cart staging areas.
Scorecard and golf tees will be available and distributed at the check-in area upon request.
Golf carts are allowed to be shared by two golfers regardless of household or living unit affiliation.  Both riders must wear masks while in the cart and the driver must remain in control of the cart throughout the round.  Passenger may not operate the cart.
Golfers may request a single cart and must identify with CDC's criteria of older adults and anyone who has serious underlying medical conditions.  A complete list of criteria for individuals at high risk for severe illness from Covid-19 can be found at the pro-shop.
To minimize contact and excessive touching, hole liners are now modified and inverted on putting greens.
Flagsticks on holes should not be touched or removed at any time.
Sand rakes are no longer allowed. If sand in bunker is disturbed and affects the lie, golfers may pick up their golf ball and smooth sand with their foot or hand. The golf ball should be replaced as near as possible to the original lie, in the bunker without penalty.
The driving range, putting, chipping greens as well as practice bunker are restricted to 10 people or less while maintaining social distancing.
Food & Drinks may be purchased for takeout or dine-in at the restaurant
All restrooms are cleaned and sanitized every 2 hours.
All golf carts are cleaned and sanitized after each use.