On the Ewa Plain of Oahu, Arnold Palmer and Ed Seay were given land that was once waving fields of sugar cane.  Redesigned into the Hawaii Prince Golf Course, today this land features 27 holes offering unique challenges for golfers of all levels.
Each of the three nine holes – A, B and C – is related but has its own identity. The most challenging combination is A-C, slope rating 134 from the back tees. The least difficult is A-B.
Ten lakes dot the course. Water comes into play on six holes of the A course, three on the B and seven of the C.
On the C course, the toughest test is on the second hole, a par-4 dogleg with a lake on the left, several fairway bunkers on the right and the out-of-bounds beyond that.
The toughest on the A course is the eighth hole, a long par-5 with lots of bunkers and mounding.
The B course saves the toughest for last, a par-4 that usually plays into the trade winds, with water to the left, front and right of the tee. This is probably the most difficult hole of all three courses.
The putting greens on A, B and C are among the fastest in Hawaii.
The three interchangeable nines offer a variety of challenges with multiple sets of tees and well-placed bunkers awaiting any errant shot. Depending on which combination of nines you play, you are sure to get a diverse experience.
Opened: July 1992
Architects: Arnold Palmer and Ed Seay
Signature Holes
Hole A7: Par 4, 398 yards
Hole B9: Par 4, 403 yards
Hole C2: Par 4, 446 yards
Hole C7: Par 3, 183 yards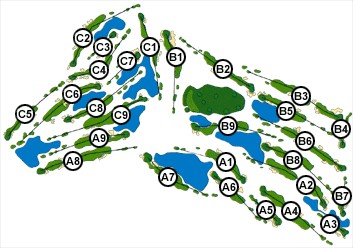 Course Statistics
 
Yards
Par
Rating
Slope
 
A/B
B/C
C/A
A/B
B/C
C/A
A/B
B/C
C/A
A/B
B/C
C/A
Back
7,117
7,255
7,166
72
72
72
75.0
75.5
75.7
136
135
132
Championship
6,759
6,801
6,746
72
72
72
73.0
73.2
73.4
128
129
127
Resort
6,237
6,175
6,214
72
72
72
70.1
69.7
70.2
122
120
120
Forward
5,275
5,205
5,300
72
72
72
69.9
70.4
70.5
119
119
117