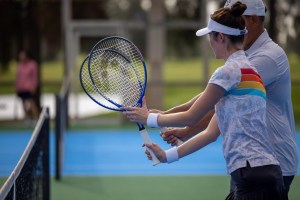 The Hawaii Prince Tennis Club offers two state-of-the-art Mateflex tennis courts. Mateflex tennis courts improve comfort, reduce leg stress and are fast drying after rainfall. Private, semi-private and group tennis lessons are available for beginners, intermediate and advanced youth and adults.
USTA Hawaii Pacific
The United States Tennis Association (USTA) is the national governing body for the sport of tennis in the
U.S. and the leader in promoting and developing the growth of tennis at every level, from local
communities to the highest level of the professional game.
A not-for-profit organization with more than 655,000 members nationwide, it invests 100% of its
proceeds in growing the game.
Contact:
Phone: 808-585-9503
Email: playandlearntennis@hawaii.usta.com